Balqis Residence
Homes to Cherish with Sweeping Views of the Arabian Gulf or Dubai's Dramatic Skyline
Certain to become a significant landmark as one of the largest and most ambitious projects on The Palm Jumeirah, the Kingdom of Sheba is a two-phased development. At the heart of project is Balqis Residence: a collection of villas, townhouses, penthouses and apartments that make up the three hundred superb residences offering a wealth of lifestyle and investment choices to discerning buyers.

KINGDOM OF SHEBA
Gracing The Crescent, on 141,500 square metres of prime land, the Kingdom of Sheba is adjacent to the trailblazing Atlantis. Reminiscent of Arabia's ancient cities, the Kingdom of Sheba has a sense of history and grandeur. The construction will reflect the traditional values and symmetry that are inherent in all Yemeni art forms.

The contemporary elegance of the living spaces, the fabulous furnishings and fittings, the inviting outdoor areas and surrounding greenery, the sea and the beach, all contribute to a lifestyle of consummate quality.

Balqis Residence offers spacious 2, 3, 4 and 5 bedroom apartments with an array of amenities including several swimming pools and ample covered parking.

There are 34 palatial sea-facing villas available within Balqis. Each 4 or 5 bedroom home comes equipped with a private pool, landscaped garden and an enclosed three car garage. There are also 28 elegant townhouses, again with private pools, landscaped gardens and enclosed three car garages as standard.

The 17 duplex penthouses in Balqis Residence are available in four or five bedrooms and vary in layout from the signature penthouse to the royal and imperial offerings.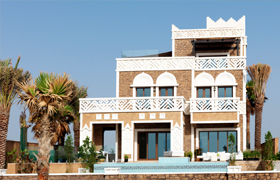 Payment Plan
Features and Amenities
Beach Club & Gym• Restaurants and cafés • Convenience Store
Villas & Townnhouses with private pool, landscaped garden and an enclosed three car garage.
Site Location
Call Us
Tel: +97145548270
Tel: +971557990988
Visit Us
Synergy Properties
Office #3303, Concord Tower,
Dubai Media City, Dubai, UAE
In case of any Real Estate Enquiries, you can call us or send a message.
We are here to help!
Request a Callback
Own spacious sea facing villas on Palm Jumeirah.