Now it is cheaper to buy, than to rent a home in Dubai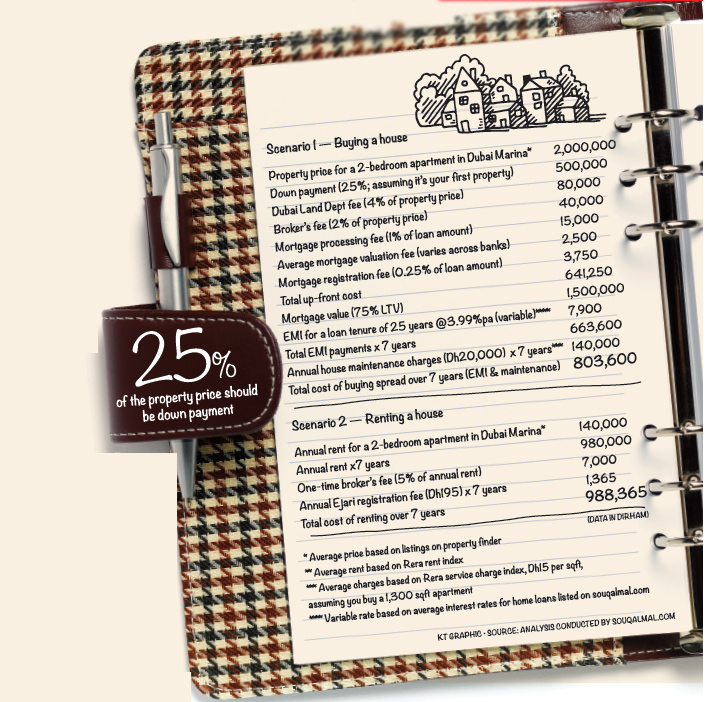 Should I buy or rent property in Dubai? It's the million dollar question playing on the minds of several expatriates. We have embarked to find out whether it makes more sense to purchase a property here rather than pay off someone else's mortgage by way of renting.
The common consensus we arrived at is that if you are living in Dubai short term, it is better to rent a property, whereas if you are here for the long term, it is worthwhile to purchase a home. However, this does come with high upfront costs such as the mortgage down payment (25 per cent of the property price if it is your first home in the UAE), Dubai Land Department fee, broker's commission, mortgage processing fee, mortgage valuation fee and other admin overheads.
Meet Ruchika Airon, the owner of a two-bedroom townhouse in Jumeirah Village Triangle (JVT). "The admin costs of buying a property in Dubai [registration, valuation, inspection] are quite high. We will have to live in the property for a few years to recover the overheads of purchasing it. Although there were properties in The Greens and Springs that fit our budget, there was no capital appreciation possible. In JVT, although the facilities are lesser in comparison, we stand to gain from more price growth for our property. The interest rates for mortgages in the UAE are much cheaper than what we pay for our home loan in India," informs Airon.
Meanwhile, Toby Young, managing director of PropertyRights.ae, rents a townhouse in Jumeirah Village Circle. "I would advise people to purchase property in the UAE only if they have absolute job certainty. If you lose your job, you may struggle to meet the financial obligations associated with property ownership. I would consider buying property here only if prices drop by 25 to 30 per cent," says Young.
We approached comparison website Souqalmal.com to analyse the cost of buying versus renting a two-bedroom apartment in a popular location in Dubai (Dubai Marina) for a period of seven years. This calculation is based on current prices and rents in the Dubai property market and do not take into account price appreciation and rent hikes.
Doing the math
For a two-bedroom in Dubai Marina worth Dh2 million, you will have to pay Dh641,250 in upfront costs. The cost of buying an apartment after paying the initial upfront cost would sum up to Dh803,600 (including EMI and maintenance) spread over seven years in comparison to spending close to Dh1 million for the same period in annual rents alone.
"Number-crunching might be a helpful way to evaluate the buy versus sell option on paper, however the decision ultimately boils down to affordability and preferences. You must consider all factors such as how long you plan on staying in the property and in the country, how flexible your monthly budget is, your current pool of savings and debt obligations, lifestyle preferences and such," says Ambareen Musa, founder and CEO of Souqalmal.com.
We caught up with Imran Siddiqui, a telecom company executive, who purchased a studio in Discovery Gardens two years ago in cash. Siddiqui now plans to buy another property in Arabian Ranches or The Springs that he will initially rent out and eventually occupy with family.
"Studios are good for investment as they provide high yields, are easy to rent out and can be sold quickly as well. It's worthwhile to buy property in Dubai since the market has its fundamentals in place and it is significantly cheaper compared to global cities such as New York or London. For instance, the average price for Dubai property is Dh1,000 per sqft while in other global cities, it is as high as $1,000 per sqft," observes Siddiqui.
Real estate executives insist that end-user buyers should consider their tenure in the UAE and the market position before taking the plunge.
In it for the long haul?
"If you think you will be here for 12 months or less, then consider renting as the transfer costs involved in buying may become too much to consider. If you are planning to stay in Dubai for a number of years, then it's better to purchase a property," says Myles Bush, CEO of PH Real Estate.
"Secondly, consider the current market position. If there are signs that prices are likely to drop, it would be advisable to consider renting rather than buying. However, in terms of today's market, the current economic position, global factors geared around the dollar and the fact that Expo 2020 is just around the corner are all signs which suggest that now is a good time to buy," adds Bush.
With property sales prices in Dubai having fallen more than rents over the past two years, rental yields have increased and this makes the market more attractive to investors.
"More expats are also likely to transfer from the rental market to own their properties, particularly as developers are offering flexible payment terms to sell properties in a more competitive market," says Craig Plumb, head of research, JLL Mena.
– deepthi@khaleejtimes.com
Comments
comments