Nshama gets creative with payment plans
Developer launches 50:50 payment plan for new apartments in Town Square
For Dubai developers, putting in place a flexible payment plan is key to attracting investors, particularly so when market conditions are subdued. Most leading developers have created payment plans where a sizeable portion of the home's sales value can be paid in easy installments after handover.
Leading the pack is Nshama, a developer that specializes in mid-market homes, which has launched a new payment plan for the recently-launched Warda II residences at its flagship project Town Square on Al Qudra Road.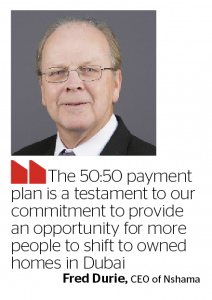 The 50:50 payment plan allows homeowners to pay the first half of the home's value over two years in easy installments, with the balance 50 per cent to be paid in 10 years, financed by Noor Bank.
At the Warda II residences, a one-bedroom home costs Dh611,888, a two-bedroom unit Dh827,888 and a three-bedroom home is priced at Dh1.2 million. These 120 homes are scheduled for handover in 2018.
Warda II apartments will feature amenities such as a gym, sports facilities including squash courts and basketball half-court, and a dedicated park with children's play area and retail.
Set in the heart of Town Square, Warda II homes are designed to promote family living with a cultural centre, community centre and a retail promenade.
Fred Durie, CEO of Nshama, said: "The 50:50 payment plan option on the new apartments in Town Square is a testament to our commitment to provide an opportunity for more people to shift to owned homes in Dubai at extremely competitive rates."
Warda II apartments are located centrally in the 31 million sq ft development anchored by a central square, the size of 16 football fields, and featuring lifestyle choices, including Vida Town Square Dubai hotel and a Reel Cinemas cineplex and open-air cinema.
The bedrooms come with sound-proof windows, in-built wardrobes and an en-suite bathroom. Parking is at a special podium.
The first Town Square townhouses are set for handover next year. Zahra townhouses will be handed over on October 1, 2017 while the Hayat townhouses will be delivered to owners in December 2017. Residents are expected to start moving in by the end of 2017 and early 2018.
Town Square will eventually feature over 3,000 townhouses and 18,000 apartments in addition to retail, hospitality and commercial space.
Courtesy- Deepthi@khaleejtimes
Comments
comments