Real estate gains momentum as Expo 2020 nears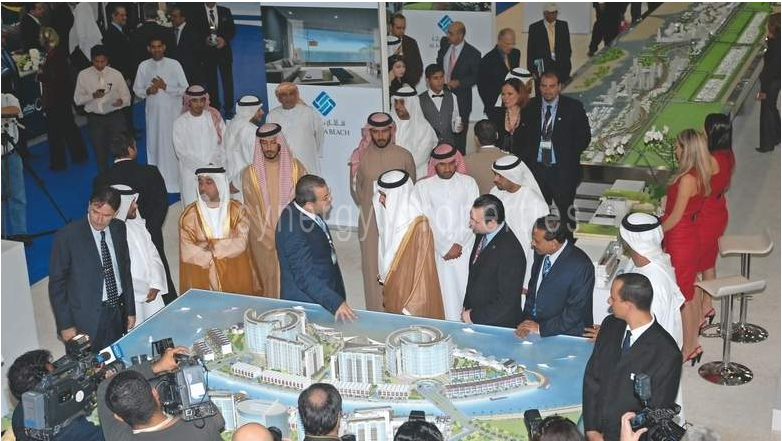 The International Real Estate Investment Show (IREIS) is back with its 10th edition to be held at ADNEC, Abu Dhabi, from November 1 to 3, 2018. This edition will cover 8,000 square metres area, attracting over 10,000 visitors with over 100 exhibitors from the local and international property market. Associated events include International Residency and Citizenship Expo, Citizenship Conference, and Abu Dhabi Investment Conference.
Dony Cyril, Exhibitions Director, said: "In 10 years of IREIS, we have learnt how to give maximum benefit to our international and local exhibitors. We started Abu Dhabi Investment Conference to brainstorm how well we can fit with UAE's future growth strategy, increase investor confidence and FDI to the UAE. We extended the main show to international pavilion, which gives a lucrative platform to local and international companies to network, explore and expand."
Sultan Al Shakrah, CEO of Ajmal Makan, and Platinum sponsor of the event said: "Our strategy is to develop sustainable development projects. The decision to build Sharjah Waterfront City comes after identifying the needs of all segments of the society. It is a unique mixed-use waterfront city with significant commercial and tourism impact on the emirate's economy."
IREIS-ADIO tie-up to Boost Abu Dhabi Investments opportunities
To attract Foreign Direct Investment (FDI), the Abu Dhabi Investment Office (ADIO), a government entity, connects appropriate private and public sector entities, such as IREIS, in the emirate of Abu Dhabi to build investor awareness and confidence that lead to tangible results to accelerate and achieve investment results.
ADIO's support is a testament to IREIS's role in UAE's economy. The tie-up is one-of, but we are talking for a permanent arrangement and we are also in touch with other relevant authorities so that exhibitors and visitors take the full advantage of their presence at IREIS.
'Abu Dhabi Investment Conference 2018' to highlight growing investment opportunities 
Abu Dhabi Investment Office (ADIO), the investment arm of the government of UAE and the strategic partners in organising the "Abu Dhabi Investment Conference  2018″, will have direct interaction with the business leaders and explain its activities to the high-end audience. The Abu Dhabi Investment  Conference  will commence with the keynote of H. E. Khalifa Al Mansouri, Under Secretary of the Abu Dhabi Department of Economic Development, who will present how the Emirate is an ideal destination for doing business.
Whilst introducing  a highly successful high-profile case study, Peter Stebbings of Jones Lang LaSalle (JLL) MENA will moderate on Abu Dhabi Real Estate Market Trends in discussion with Sameh Muhtadi, CEO of BLOOM and Maan Al Awlaqi, Commercial Director of ALDAR.
Peter said: "There are various government initiatives behind the Dh50 billion public spending announcement aimed at stimulating private sector investment in the Abu Dhabi economy.  If successful, this would lead to a more diversified economic base and an improvement in demand for and returns from real estate."
The conference will conclude with new investment announcements in Abu Dhabi from Abu Dhabi Investment Office (ADIO) in the wake of recent investor friendly economic reforms and how  to capitalise on the opportunities these reforms will bring as an integral part of the "GHADAN 21" programme after which the floor will open for debate on Real  Estate  opportunities which will be led by Mohanad Al Wadiya, a leading commentator on property investment.
Global Citizenship and Residency 
The UAE, which hosts more than 8 million (88%) expatriates, is an ideal hub for second citizenship and residency prospects for countries in Europe, America, Canada, the Caribbean and Australia – who attract wealthy investors and skilled immigrants through business and investment immigration programmes offered to boost their economic growth. The UAE residents from Syria, Yemen, Lebanon, Saudi Arabia, Bahrain, Kuwait, Oman, India and Pakistan have increased demand for Caribbean citizenship to 51 per cent, especially to St. Kitts & Nevis, Dominica, Grenada, Antigua & Barbuda and St. Lucia – the highest in the world.
UAE based Bayat Legal Services' CEO Sam Bayat, said: If we compare 2017 to 2018 we have processed about 25 per cent more applications. This is partly due to our region's geopolitics and to applicants' choices in selecting programmes that are closer to their overall objectives, such as livability in the host country. In 2017-18 several countries launched their citizenship programmes such as Moldavia, Montenegro, Turkey, Jordan and Egypt, all trying to attract applicants to actually relocate.
Dr Jean Philippe Chetcuti, Managing Partner, Chetcuti Cauchi said: "UAE families have shown significant interest in the European programmes due to their high standard of living and visa-free travel to over 150 countries globally."
Alexander Bello, Managing Partner of CS Global Partners' said: "Immigration and investment are now more intertwined than ever. We are seeing a surge of Middle Eastern applications for the citizenships of the Commonwealth of Dominica and fellow Caribbean St Kitts and Nevis. Many of them are looking to minimise their travel requirements, do business faster or bring their families closer. This is partly due to investors from the Middle East valuing increased visa-free travel, while offering their families future-proof stability."
Arun Bose, Project Manager of IREIS 2018, said: "As the world is becoming a global community due to increasing digitalisation, economic mergers and protectionism, we thought giving added value to our exhibitors, investors and visitors. IRIES 2018 is going to be a bigger and more valuable experience for our partners. As part of the event agenda, we are hosting an international conference to discuss various citizenship and Residency opportunities."
In today's ever-changing world, dual citizenship is no longer a privilege for a select few. With the variety of programmes now available to the market, and their affordability making it accessible to many more families, alternative residence and citizenship have become a necessity for families looking to provide their loved ones with greater freedom, safety, health and educational opportunities. At the very core of it, dual citizenship enables parents to provide their children with more opportunities in life – a global legacy so to speak.
Credited to: Khaleej Time
Comments
comments