The White Villas
Only Designer Twin Villas in Shahapur by Sussanne Khan in Just 90 Lakhs
An assembly of 42 Mediterranean styled gated twin villas spread on 2 acres land, conceptualized and designed by the internationally renowned designer architect Ms. Sussanne Khan. The famous MANAS MANDIR (JAIN TEMPLE) and GURUDWARA SAHIB SHAHPUR, are two internationally renowned religious spots which are very close by and have added to the value of Shahapur and surrounding areas.


It's the only designer villa project on the 167 km stretch from Mumbai to Nashik which has a clear height of 11 feet on the ground floor and a maximum clear height of 18 feet and minimum 11 feet height at the lowest level on the first floor , with two bedrooms on the first floor. Both have open to sky terraces giving extended feel of the bedrooms.

The ground floor has a large and spacious living room , one bedroom which extends into rear garden area, giving a feel of the garden within the bedroom and a kitchen with separate service area . All the 3 side open space can be accessed from the living room, the bedroom and the Kitchen.

All rooms have big size French Windows with 8 feet height . The contemporary styled landscape along with wooden lookalike finish sit out in front adds to the luxury . The villa has an independent compound wall and gate with one covered car park in the front.

The villa comes with an ownership of a 1200 square feet plot with independent entrance and three sides open. Each villa is 1550 sq. ft. 3 BHK with open spaces on three sides of the villa and a single common wall only between two villas. Each twin villa has an independent overall compound wall which acts as an individual villa compound wall as well.

LOCATION:
The site location is: THE WHITE VILLAS, Kalamgaon,Taluka Shahapur, Thane district- 420601. THE WHITE VILLAS is 55 km from Mulund, 45 km from thane and 75 km from Mumbai.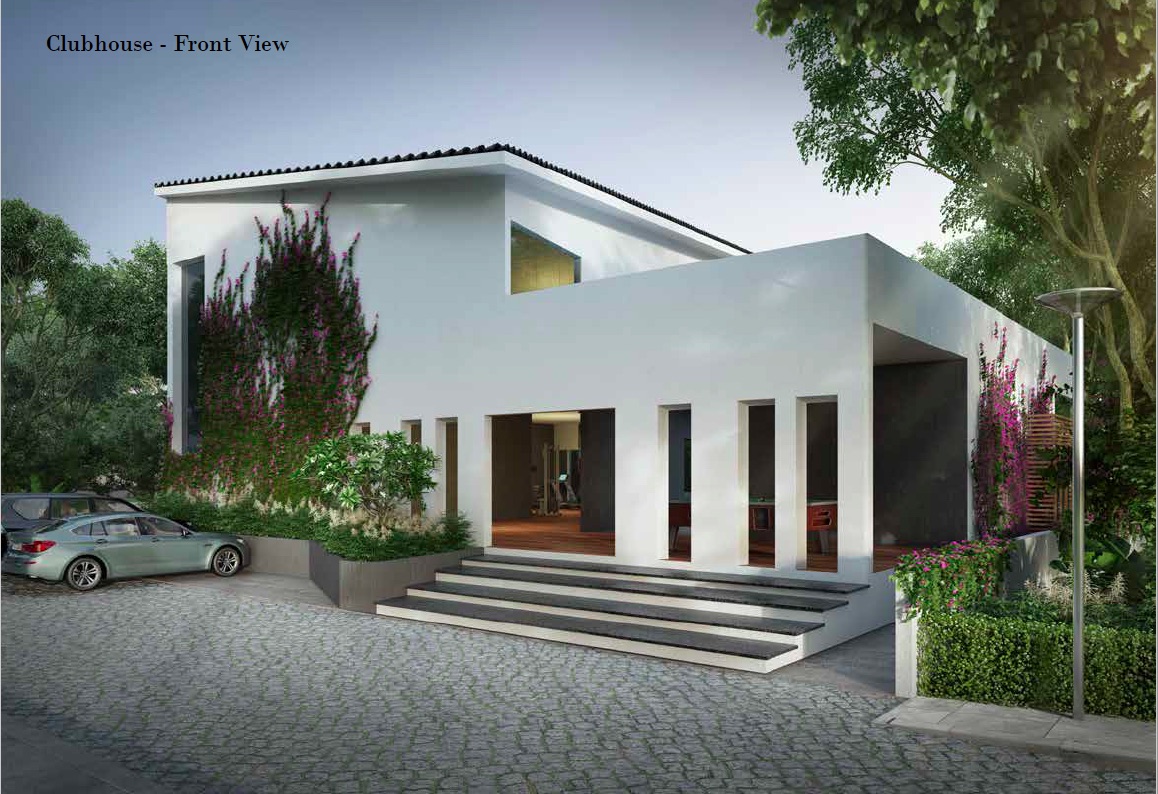 Payment Plan
Features and Amenities
Power and water backup for each villa.
Beautiful clubhouse with swimming pool.
The first gated community designer project in the vicinity.
Calm, quiet and green surroundings.
Bank loans availability from all the leading banks.
The overall theme of the project is Mediterranean and all white in Color.
Site Location
Call Us
Tel: +97145548270
Tel: +971557990988
Visit Us
Synergy Properties
Office #3303, Concord Tower,
Dubai Media City, Dubai, UAE
In case of any Real Estate Enquiries, you can call us or send a message.
We are here to help!
Request a Callback
Own one of the 42 Mediterranean styled Twin Villas designed by Sussanne Khan in Shahapur.